Follicular Unit Extraction (FUE) Success and Results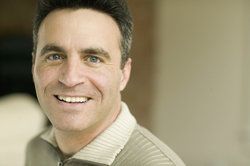 When it comes to determining the success of hair transplant surgery using the follicular unit extraction, or FUE, method, each hair loss clinic uses its own standard. Some practices are content if the majority of hair follicles they harvest survive the transplantation process, never taking into account whether the final result is aesthetically pleasing or whether the patient is actually happy with his or her appearance a year later.
At the hair loss clinic of True & Dorin, we do care about such things - very passionately, in fact. Of course, we measure success in part by holding ourselves to the strictest clinical standards, including a minimum 98 percent survival rate of hair follicles harvested from the scalp and a less than 2 percent rate of damage to follicles during transplantation. However, at our practice in New York, FUE success and results are primarily determined by the overall satisfaction of our patients with their results after six months, after a year, and for the rest of their lives.
Helping to Ensure Success through Clear and Open Communication
At True & Dorin, we have found that one of the most important keys to successful results is the establishment of clear and open communications between our team and our patients. We strive to be honest and straightforward at every stage of treatment. From the very first consultation, we help our patients to set realistic treatment goals and reasonable expectations for their results. While patients can achieve exceptional results through FUE, it may not be possible to have the same head of hair that you had in your youth. In truth, every patient has only so many hairs to work with, and depending on the extent of your thinning, there may be only so much coverage that this hair can provide.
Patients who go into their hair transplant surgeries understanding what can and cannot be achieved are far more likely to be satisfied with their results than patients who go into their procedures with unreasonable expectations and unattainable goals.
Understanding the Patient's Role in Achieving the Best Possible Results
Another point that we make sure to stress from the very first consult is that patients play as important a role in ensuring the quality of their results as their surgeons, especially after their surgeries. Our hair transplant surgeons supply patients with very specific post-surgical instructions that will help to ensure the best possible results from their FUE surgeries. For example, did you know that you should not place your hair under running water for two weeks after hair transplant surgery? Or that you should avoid any activity that could cause you to sweat during that period as it could increase the chances that you will infect your transplant sites? These are typical of the instructions that you would have to follow as an FUE patient in order to achieve satisfactory results.
Learn More about FUE Success and Results
In order to learn more about FUE success and results, please contact True & Dorin, the Hair Loss Doctors, today.
Related to This