Effective Treatment Options for Cases of Traumatic Alopecia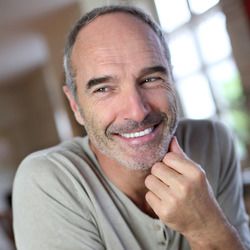 In a society with such a large focus on appearance, it is not surprising that so many people dread hair loss. As much as we would like to avoid losing hair, many, especially those with a familial history of hair loss, expect to experience the condition eventually. However, some people suffer from traumatic alopecia, a condition that is brought on by extensive cosmetic treatments or traction. This condition is often an upsetting and unexpected experience and one that patients are eager to treat. Because hair loss causes are important in determining the most appropriate hair loss treatment, Dr. Robert True and Dr. Robert Dorin always consider the cause of hair loss before recommending treatment. For our New York patients, traumatic alopecia treatment may differ from that of our patients suffering from other types of hair loss.
Causes of Traumatic Alopecia
Traumatic alopecia describes hair loss that occurs around the peripheral of the scalp. This condition is most commonly experienced by women, although there are cases of male traumatic alopecia. The most common causes of traumatic alopecia are damaging habits or treatments. An overuse of or extended use of cosmetic hair treatments as well as practices that put significant traction on the hair may result in cases of traumatic alopecia. The leading causes of this condition include the following:
Chemical hair treatments, such as straightening or perming the hair
Regular use of hair dyes
Overuse of hair-straightening tools
Tension on the hair from tight braids or ponytails
The use of hair extensions or hair weaves that are clipped to the hair
Habitual pulling, plucking, or twisting of the hair
Regular use of compression helmets, such as those worn in sports
Treating Traumatic Alopecia
The first step in treating traumatic alopecia is to prevent further hair loss. It is important to determine the cause of traumatic alopecia so that behaviors, habits, or cosmetic practices can be changed to protect the remaining hair. It is also important to change behaviors so that once the hair loss is treated, there is no fear that the condition will reoccur.
Hair that has already been lost due to traumatic alopecia will require treatment from our hair loss doctors. Traumatic alopecia is not a condition that responds to medicinal treatment, however there are other options to explore. The two primary treatments for traumatic alopecia are low-level laser therapy and FUE hair transplant.
LLLT: LLLT, or low level laser therapy, uses light energy to increase blood flow to the area of hair loss in order to promote regrowth. By stimulating dormant hair follicles and working with patients on behavior modification, significant improvement may be made to the area of hair loss.
FUE hair transplant: FUE, or follicular unit extraction, allows Drs. True and Dorin to transfer individual hair follicles to the treatment site. This is the most effective treatment for severe cases of traumatic alopecia and it creates a very natural and full appearance for the hair line.
Schedule an Appointment
Whatever the cause of hair loss may be, Drs. True and Dorin can offer an effective treatment that can improve the quantity and quality of your hair. If you have experienced unwanted hair loss and are looking for treatment, schedule a hair restoration appointment with Dr. Robert True or Dr. Robert Dorin at your earliest convenience. We look forward to hearing from you!
Related to This